FASA's Franchise Award Winners
Estimated reading time: 4 Min Read
The Franchise Association of South Africa's Awards for Excellence in Franchising, sponsored by Sanlam, reflect what is trending in worldwide consumer circles and cements the franchise community's commitment to growing the economy and creating more jobs.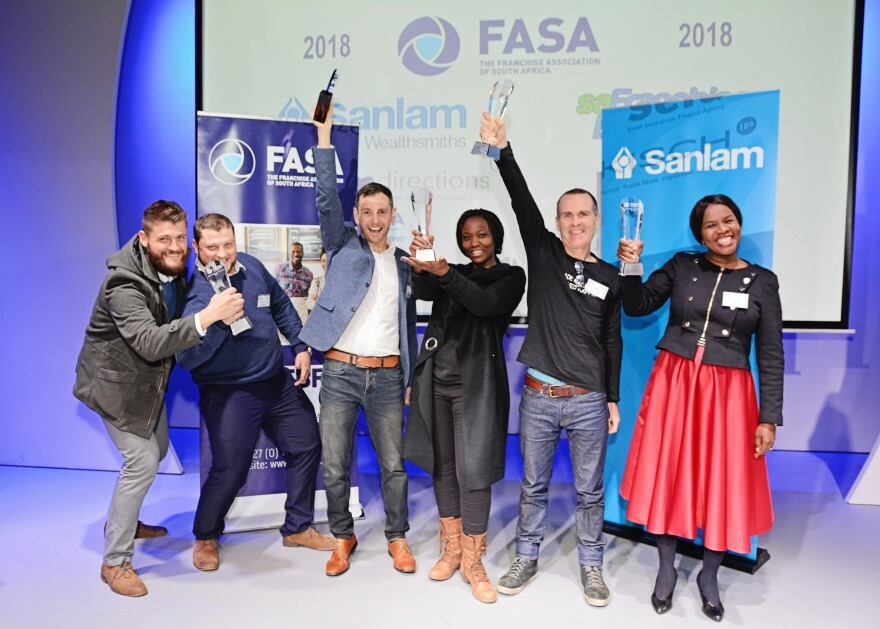 The results reflect trends identified by the Nielsen Consumer 360 survey, which looks at the key factors that will shape consumer opportunities until 2025. It identified that, as South Africa's population becomes more urbanised, with different product and service needs for Generation X and Y, there will be a keen focus on the health and wellness sectors.
Health and Fitness: The Trends to Watch
The FASA Awards this year clearly reflected these worldwide trends in health and wellness in the two top awards:

Kauai as Franchisor of the Year
Kauai continue to ride the trend wave in the health food revolution and are reaping the rewards for their innovation.
"We are thrilled to be judged ahead of the curve both in consumer trends and in brand strategy," says Guy Le Ray Cook, franchising executive for Kauai. "Not only have we had our best year in 22 years of trading with 25% year-on-year growth and 4% improvement on net profit percentage, but we have upped our game by introducing innovative communication strategies. From being the first to market with our new app, which includes order ahead, loyalty and cashless payments, adding a minimum of 5% additional overall sales in loyalty transactions, to introducing our K Konnect platform, which allows everyone – from kitchen staff to franchisees – to get information and share day-to-day experiences on a live cell phone platform."

Body20 with their Brooklyn, Pretoria branch taking the Franchisee of the Year Award
This franchise's 20 minute EMS (electro muscle stimulation) training sessions have revolutionised how we keep in shape. So confident are Body20 that their revolutionary EMS Studios will become one of the most influential fitness franchise companies in the world, they are opening new studios in South Africa at a rate of almost one a month and have already broken into the US market with great success. Says Bertus Albertse, CEO of Body20: "The combination of state-of-the-art EMS technology, modern personal training and rapid fitness results make Body20 the most exciting franchise opportunity in fitness this decade. It's a low-staffing business model, with fast break-evens and impressive returns – our 36 outlets in just over three years attest to that."
Communication is the Key to Success
What has become apparent through the 2018 FASA Awards is the franchisor's commitment to assisting franchisees to weather the economic hard times through innovative communication strategies, whether through their field service monitoring or reaching their markets through the latest customer loyalty apps.

Kauai received a second award as Brand Builder of the Year
Kauai is leading the way by establishing successful customer loyalty apps with key partners, such as the 93 Virgin Active Health Clubs, Discover Vitality and Discovery Insure. This allows the franchise to build their customer base, raise awareness of their brand and boost their bottom line.
Kauai's field service consultant, Lawrence Lindeque, won Field Service Consultant of the Year
Lindeque achieved excellence through effective business monitoring and mentoring of the franchisees in his area, resulting in double digit growth in all his stores.
Contributing to Job Creation
Job creation is on everyone's lips since President Cyril Ramaphosa set the goal of creating half a million jobs in the next year. A tall order, one might argue, but with franchising's duplication model, this is the one sector that can make a meaningful contribution. The sector's 845 franchise systems, 40,500 outlets – employing close to 400,000 people and contributing 13.3% to the country's GDP – is testament to this fact.
KFC took the Job Creator of the Year Award
With 20,500 employees across 1,053 outlets, KFC have made an incredible contribution to job creation. If one adds the indirect jobs they create through their supplier network and partners, their contribution to the South African franchise sector is very impressive and should be lauded.
Hall of Fame Award Salutes Ian Fuhr, The Man Behind the Sorbet Brand of Beauty Salons
Behind every successful brand is an entrepreneur with the vision to take a concept and build it into a household name. This year, the Franchise Association have honoured Ian Fuhr, entrepreneur extraordinaire, who revolutionised the franchising model with his Sorbet brands by redefining customers as 'guests' and staff as 'citizens,' putting service and support ahead of sales and profit. The culture he instilled in his businesses is as follows: "If the service is excellent and the citizens feel validated and cared for. . . the money will automatically follow."
Sanlam, sponsor of the Franchise Awards, is proud to be associated with the Franchise Association of South Africa, the body representing the franchise industry in South Africa. "South Africa is in dire need of economic growth," says Kobus Engelbrecht, Marketing Head, Sanlam Business Market. "Franchising is an effective way to create new businesses as well as new employment opportunities that will stimulate this much needed economic growth. By recognising and rewarding outstanding performance in the franchise industry, we are building and promoting franchising as a business concept, as well as an excellent career option."
Vera Valasis, Executive Director of FASA, who has just returned from representing South Africa at the World Franchise Council, reports that, whilst the effects of global economic turbulence are affecting some countries more than others, almost all evidence suggests that franchising is still alive and well and making huge contributions to the worldwide economy. "As a global phenomenon, franchising remains one of the drivers of entrepreneurship, small business development and job creation."
Information courtesy of the Franchise Association of South Africa.