Franchise Direct MD Sean McGarry makes Franchise Business Radio appearance
Estimated reading time: 4 Min Read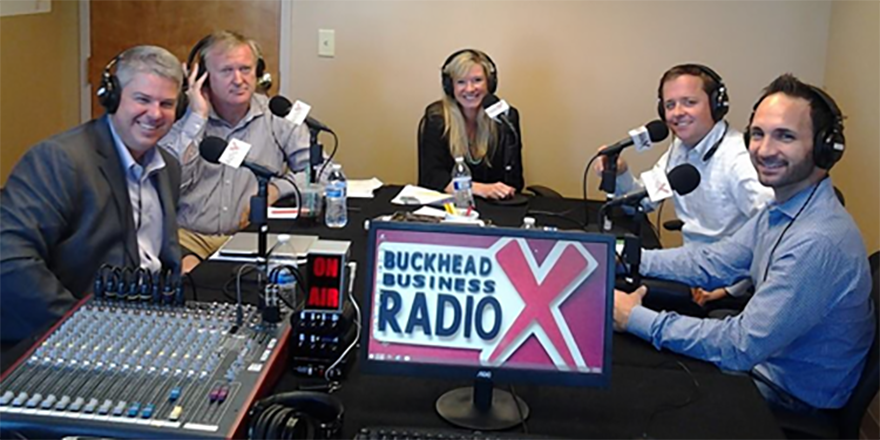 Pictured, left to right: Chris Sloan, Sean McGarry, Pam Currie (host), Joe Kelly, Paul Macaluso
Our managing director, Sean McGarry, had the pleasure of being a guest panellist on the July 15 episode of Franchise Business Radio, hosted by Pam Currie.
The other panelists included Paul Macaluso, SVP of marketing for FOCUS Brands (Auntie Anne's, Carvel, Cinnabon, McAlister's Deli, Moe's Southwest Grill, Schlotzsky's) and marketing chair for the Southeast Franchise Forum; Joe Kelly, the director of recruiting for TalentServed Recruiting; and Chris Sloan, the district manager of Insperity – a human resources services company.
Franchise Business Radio seeks to foster connections, along with enhancing education and collaboration within the often fragmented franchise industry.
This particular show served as an introductory course to a number of different aspects of the industry, including recruitment and the service franchise portals provide.
However, because of Sean's background the moderator made it a priority to ask some questions about US franchisors opening units in Europe.
The first point he made was on the lack of attention some franchisors pay to language differences. "One of the first things [a franchisor has] to realise is the cultural and language differences that [Europe] has within a small space," says Sean.
"Often you get a franchisor that says 'I'm going to go into this market. I'm going to go into Europe.' And we say, 'Well do you have anyone who actually speaks French?' And they say, 'No, we don't.' And we say, 'Is there anyone who could respond to this inquiry in their language?' And they say, 'No, they better speak English'.
"This is not the attitude you want to take into a new relationship you're hoping to profit from. Cultural differences are another subject franchisors entering a European market must consider.
"A classic example is in the States. People eat a donut in the morning for breakfast," he adds. "In Europe, nobody could understand something like that.
"These are differences a [franchisor] has to look at, even between the different countries. A product that might work in one might not work in another."
'One of the first things [a franchisor has] to realise is the cultural and language differences that [Europe] has within a small space'
Legally there are also key differences, including one major one. "In Europe, we don't require a franchise disclosure document. For a franchisor that is a difference that may be a benefit to them because they don't have to pull together all of information that goes into the FDD.
"However, for potential US franchisees [the FDD] is a positive because there is a lot of valuable information in there that the potential franchisee can go through and learn.
"Whereas in Europe, that's not provided. Within Europe, a person has to do more research [on their own] in relation to starting a franchise."
Because of the language, cultural and legal differences, several franchisors forego expanding into European markets using the standard franchisor-franchisee direct relationship.
Many internationally operating franchisors have found the best way to enter a new country is through the use of a master licensee. A master licensee or master franchisee, also sometimes called a sub-franchisor, is someone who pays the franchisor for the rights to develop an agreed upon area.
In exchange for taking a great deal of the load off the franchisor in developing that area, master licensees are rewarded by retaining a significant percentage of the initial fees and royalties paid by the franchisees they recruit.
Since franchising works best when it's localised, this method has really helped franchisors by utilising the services of a business partner who already knows the area they want to expand into, and can assist the franchisor in finding qualified franchisees at the single unit level.
"For some companies, they will set up an office and do it directly," according to Sean. "But many wouldn't have the resources for that so they tend to go with a master license."
The decision of who to partner with as a master licensee is very critical. "If it's good, they're going forward, but if it doesn't work it can set [the franchisor] back in that country for a long time."
Sean also imparted some advice for those looking into the possibility of franchise ownership. The number one piece of advice Sean would give to anyone considering investing a franchise is: "Look for the track record of the franchisor."
Additional tips included:
Figure out how important brand equity is to you. Do you want a younger brand that isn't as popular, banking on future scalability and growth prospects, or do you want a more well-known brand?

There are thousands of franchise brands out there. To narrow down your options, look at the fit between you as a person, what your aspirations are and what you like doing to the franchise.

Go out and visit multiple units of that franchise that are already in business before finalising a decision.

Seek advice from outsiders, ideally a CPA and a lawyer with franchise industry experience, for their views on the franchise agreement before signing.
The podcast runs 56 minutes if you would like to listen to the whole thing.