Ice Cream Parlour Baskin-Robbins Announces Plans to Develop Franchises in South Africa
Estimated reading time: 2 Min Read

Vanilla, mint chocolate chip, even phish food…ah, ice cream. It seems to be a dessert that everyone loves, and as the hotter winter months approach Baskin-Robbins has announced that it plans to increase its presence internationally and bring franchise branches to metropolitan locations across South Africa and Germany.
The Past
Baskin-Robbins is the world's largest chain of ice cream speciality stores, with over 7,000 retail shops in nearly 50 countries. It was founded in California in 1945 by Burton Baskin and Irvine Robbins, brothers-in-law and ice cream devotees who merged their individual ice cream parlours with the idea that ice cream stores could be a place in the neighbourhood for families and customers to gather and have fun.

Baskin and Robins believed that people should be allowed to sample flavours before buying them. Originally they were famous for their 31 ice cream flavours – a different flavour for every day of the month – but since then the company has grown to have over 1,000 flavours in its collection. Some flavours have even reflected historical and cultural moments over the years, with the Lunar Cheesecake flavour appearing after astronauts landed on the moon in 1969 and with Shrek Swirl in 2002 celebrating the animated movie's big green ogre.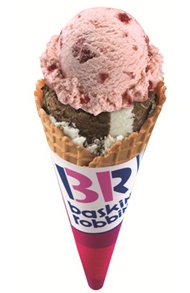 The Present
In the year 2011, Baskin-Robbins' stores had global franchisee-reported sales of approximately $1.8 billion, selling in excess of 300 million scoops of ice cream each week. Other products include frozen drinks, custom ice cream cakes and take home frozen treats.
The company uses a successful multi-unit franchise strategy, with intensive training and support for franchisees, and with stores being launched in quick succession on high street locations where there is good parking and regular passing footfall.
The Future in South Africa
Baskin-Robbins is planning to increase its presence internationally by developing stores in key metropolitan areas in provinces across south, north and east South Africa.
Franchisee candidates should have:
• A strong financial background
• A deep knowledge of their local consumers
• A proven track record of success in operating multi-unit retail or restaurant businesses
• A desire to develop a minimum of 20 to 25 Baskin-Robbins locations in South Africa in the coming years.
"Expansion in both South Africa and Germany will provide Baskin-Robbins with a strong growth opportunity," says Jeremy Vitaro, Vice President of International Development for Dunkin' Brands, of which Baskin-Robbins is a subsidiary. "We are confident that Baskin-Robbins will be well-received internationally in these countries and are eager to extend the brand further to additional markets."
We expect to have a Baskin-Robbins South African profile up and running shortly. In the meantime, check out the Baskin-Robbins UK profile to see the offers available for investing in Baskin-Robbins franchises in the UK.