Powering the Future: Battery Clinic
Estimated reading time: 2 Min Read
Given Eskom's strenuous relationship with the government and public alike, electricity is a sensitive issue in South Africa, its supply being cause for concern for many just as its importance as an energy source continues to grow. But Eskom's struggles could spell opportunity for any franchise poised to take advantage, and just such a franchise is Battery Clinic, the country's very first approved reconditioning battery franchise specialising in both new and reconditioned batteries.
The brainchild of Steve Huysamen, Battery Clinic began life in Huysamen's garage as a small cottage enterprise. It wasn't until Steve encountered engineer Chris van der Merwe that he was able to bring it mainstream. Van de Merwe constructed a machine capable of recharging car batteries without the mess and inefficiencies inherent in performing the same task by hand. Equipped with this device, the business could finally take off.
Huysamen quickly decided to commence franchising his idea upon witnessing the success of his own outlets as well as the massive gap in the marketplace, enabling Battery Clinic to spread unchallenged across the country, diversifying to consolidate its hold on the market.
"I opened a few of my own outlets and then I saw that there was big potential to start a franchise with this business," he tells Franchise Direct.
"We're not only reproducing batteries; we've got a whole accessory business and are very proud to say we've got our own South Africa battery, having signed a deal with Dixon batteries. That was a big step for us."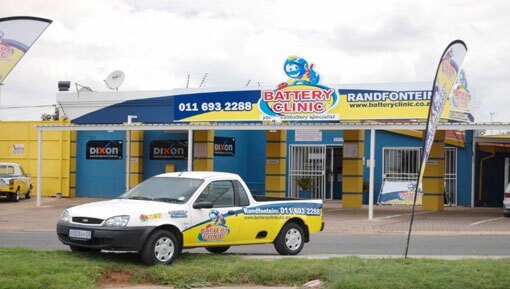 Huysamen is adamant that the future bodes well for the franchise, given Eskom's low standing with the South African public and – to an even greater degree – the proliferation of electric cars over the coming years, seeing electricity trump gasoline as the vehicular fuel of choice.
"It's expanding every day more and more," he enthuses. "The whole automotive industry when it comes to cars – they're all gonna' eventually be operated by batteries. Everything uses batteries today. With Eskom becoming so expensive, more and more people are moving to solar panels to run their houses, and obviously solar panels need batteries."
When it comes to acquiring new franchisees, Huysamen insists that interest and dedication are the attributes that most define suitability:
"Basically we want an owner-operator who's got the same passion as we've got for the business," he says. "That's the main thing that I'm looking at."
Once acquired, a new franchisee is afforded full training to guarantee their familiarity with the company's latest offerings.
"When a franchisee buys in he gets four weeks full training, and then he gets full back-up from the head office with a field agent that visits them on a regular basis. As we get new products they come for training again."
Steve plans to open a further seven outlets this year, with thriving new franchises having been already established in Pretoria, Durban and Somerset West, having found his Somerset West franchisee through Franchise Direct.
"I was very impressed [with Franchise Direct]," he says of the quality of leads he has received, and hopes this will continue into the future.